If you have been looking at
Suntree real estate
recently, I'm sure you have been noticing some of the latest trends in home design. That's why we were intrigued when we started seeing more and more homes in Florida decorated with Rattan furniture and accessories. Rattan is a natural material that is both durable and stylish, making it a perfect choice for those who want to add a touch of luxury to their home without the stress of having to maintain it. What's more, Rattan interior design is extremely versatile and can be used in a variety of ways to create a unique bohemian look. Whether you're looking for a statement piece for your living room or a casual way to update your patio furniture, Rattan is definitely worth considering.

If you're thinking about adding some Rattan furniture or home decor to your Florida home, you've come to the right place. We'll outline everything you need to know about this trending style, from its history to its many benefits. So if you're looking for a new statement piece for your living room or a complete rattan makeover for your outdoor space, this blog post has you covered. Sit back, relax, and let us guide you through the wonderful world of Rattan furniture and decor.
What is Rattan, and where does it come from
If you've been keeping up with the latest design trends, you may have noticed that Rattan is having a moment. This natural fiber has long been a favorite of luxury brands, and now it's becoming increasingly popular for use in homes. But what exactly is Rattan? And where does it come from?

Rattan is a climbing palm that grows in the tropical regions of Africa, Asia, and Australia. It's prized for its strength and flexibility, which makes it an ideal material for furniture and home decor. In recent years, Rattan has become a popular choice for sunrooms and outdoor spaces, as it adds a touch of luxury while still being durable enough to withstand the elements.
The history of Rattan furniture
Rattan has been
used for centuries
to make everything from baskets and furniture to roofs and canoes. The popularity of Rattan furniture skyrocketed in the Victorian era when it became the material of choice for fashionable conservatories and sunrooms. Today, Rattan furniture is enjoying a resurgence in popularity thanks to its timeless appeal and relaxed, coastal vibe. If you're looking to add a touch of luxury to your home, look no further than Rattan. Thanks to its durability and natural beauty, it's the perfect material for creating beautiful, long-lasting furnishings.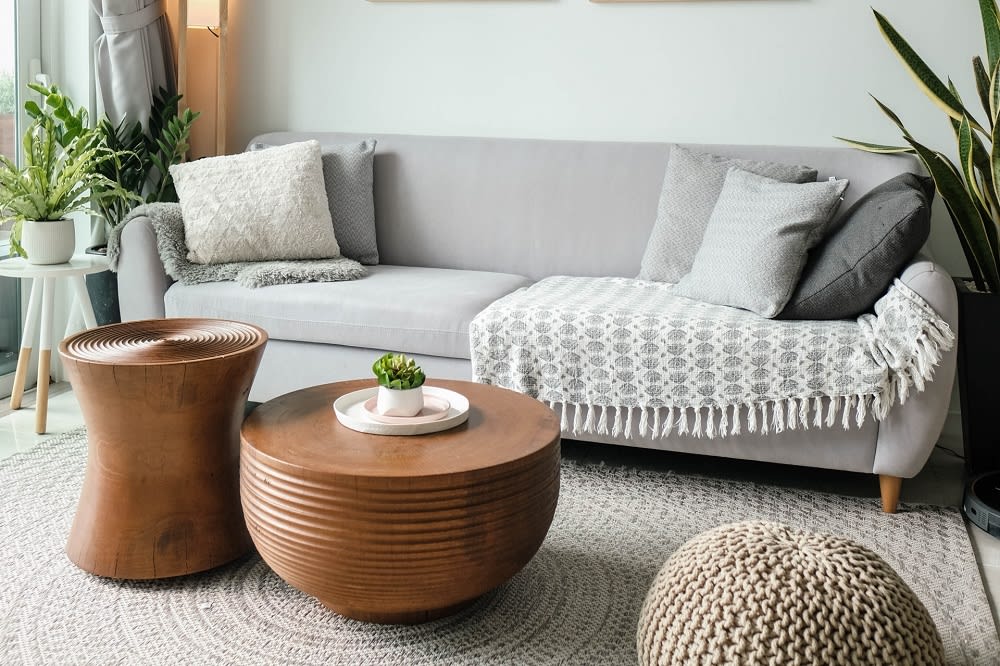 How to style Rattan furniture in your home
The natural, organic look of rattan is perfect for creating a relaxed yet stylish vibe in your home. If you're looking to add a bit of Rattan to your home, there are many ways to do it. For a more traditional look, opt for Rattan furniture or decor in classic shapes and neutral colors. Or, if you're feeling daring, go for bolder pieces in vibrant hues. No matter how you style it, Rattan is sure to add a touch of elegance to your home. Here are some tips for styling this timeless material in your space:


Start with a neutral base. Rattan furniture has a tendency to stand out, so it's best to start with a neutral color palette in your room. This will help to create a sense of balance and calm.

Incorporate texture. To add visual interest and depth, mix different textures in your rattan style. Try pairing rattan with fabrics like linen or cotton for a softened look. A sophisticated textile pattern can make all the difference in your space.

Add greenery. Rattan furniture pairs beautifully with plants and greenery. Try placing a few leafy green plants around your rattan pieces to create a lush, tropical vibe.

Keep it simple. When it comes to rattan furniture, less is definitely more. Avoid overcrowding your space with too many pieces or overwhelming the eye with busy patterns or colors. A few well-chosen pieces will do the trick!
The benefits of Rattan furniture
Rattan furniture is enjoying a resurgence in popularity, particularly in Florida. This is likely due to the many benefits that Rattan offers, including its durability, its natural resistance to pests, and its ability to withstand harsh weather conditions. Additionally, Rattan furniture is relatively lightweight, making it easy to move around and rearrange as needed. And rattan's unique visual appeal can help to give any room a touch of luxury. As more and more people discover the advantages of Rattan furniture, it is sure to become even more popular in the years to come.
Other interior design tips
The world of interior design can be intimidating, but it doesn't have to be. Whether you're looking to update a few pieces or start from scratch, these tips will help you create a luxurious space that reflects your unique style. First, focus on creating a
cohesive color palette
. This will give your space a polished look and make it feel pulled together. Next, choose high-quality materials that will stand the test of time. Finally, pay attention to the details. Add some special touches like fresh flowers or a vintage rug to make your space truly unique. By following these tips, you'll be well on your way to creating a luxurious retreat that you'll love coming home to.
Stephanie Moss Dandridge specializes in
luxury homes
and is always on the lookout for the latest trends. If you're thinking about adding some rattan furniture to your home, or if you're looking for a new home that features this popular style, we would be happy to help.
Contact Stephanie
today to learn more about our listings in Florida, and be sure to check out our website and social media pages for more information. We look forward to hearing from you soon!